Only time will tell what's next for the Giudice family!
It's been a week since Teresa Giudice and daughters Gia, Gabriella, Milania, and Audriana ventured to Italy for
According to the 47-year-old, things went really well across the pond, but she's still taking things one day at a time right now:
"It was really great to reunite with Joe and see how happy the girls were to see their dad. It was all about the girls, and we just had the best time with them, and that's it. I mean, we're just going to take day by day and see what happens. That's basically it."
The Bravolebrity told the outlet the trip was "perfect" and filled with "joy and happiness," but also said she's holding off on making any serious decisions about her marriage just yet:
"I mean, I can't predict the future, but as of now, it was two and a half days. It was too short to decide. But our daughters are the most important thing. We'll see what happens. I mean, he lives in Italy, I live in America. I don't know if that's going to work."
Eek! This doesn't exactly sound promising…
Despite the flood of adorable family photos Gia shared on social media, it's clear there's more to this ongoing situation with her parents that meets the eye.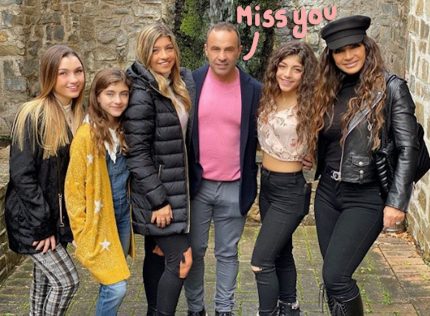 Source: http://perezhilton.com/