It was meant to put the artist on a par with Picasso. But it was thrown into chaos by the suicide of his lover and muse. As Bacon returns to haunt the French capital, we recall a tragic, game-changing show
Last Tango in Paris, Bernardo Bertoluccis controversial piece of 70s art cinema, begins with an oil painting of a man on a red bed wearing just a T-shirt, flashing fleshy legs as his face explodes in inky smears. Hes in a room with a green carpet and yellow walls. For a few moments, Bertolucci shows just this portrait of Lucian Freud by Francis Bacon then a sensual jazz score slowly starts, and the films opening credits roll alongside this unmoving canvas. It is succeeded by a brutally dissected female figure sitting on a wooden chair another Bacon portrait, this time of Henrietta Moraes. Eventually, the two paintings are seen side by side. Then we cut to Marlon Brando in a camel overcoat on a Paris bridge, yelling: Fucking God!
Behind Bertoluccis eerie use of these oil paintings is the shocking story of an art exhibition that gripped Paris, established Bacon as the great European artist he had always dreamt of being and left a man dead in a hotel toilet. Bertolucci was so astounded by Bacons solo show at the Grand Palais which opened in October 1971, just as he was preparing to make his film in the French capital that he took Brando to see it. He urged the actor, he later recalled, to compare himself with Bacons human figures because I felt that, like them, Marlons face and body were characterised by a strange and infernal plasticity.
This unsettling quality did not limit itself to those two works. The seedily magnificent Three Figures in a Room, a triptych of two-metre-tall canvases painted in 1964, has enough infernal plasticity to fill anyones nightmares. On the left, a man sits naked on the toilet with his back to us. He seems to have no bones except for a line of vertebrae that poke out through his pink, orange and blue skin, which struggles to contain a spilling spread of relaxed muscle. The mans buttocks fit like a plug into the white porcelain.
The first visitors to the hit retrospective had no idea how uncannily relevant this seven-year-old image was to Bacons private anguish. Three Figures in a Room was one of many paintings of the artists lover, George Dyer, that stole the show. But on 24 October, two days before the exhibition opened, staff at the Htel des Saints Pres found Dyers corpse slumped on the toilet. He died from a deliberate overdose.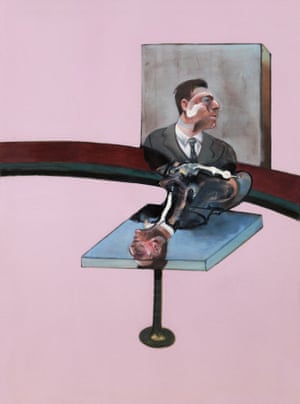 Source: http://www.theguardian.com/us